IBM 5155 - CRT Shield Removal
WARNING:

Removing the CRT shield will potentially expose you to dangerous/fatal voltages and currents.
Those threats can still be present long after power has been disconnected from the 5155.
There is a threat to your body from flying glass fragments, resulting from accidental breakage of the CRT (includes CRT neck).
IBM's yellow warning label on the shield is there for a reason.
Before removing the CRT shield, adequately educate yourself as to the hazards/risks/precautions.


---

STEP 1 OF 4

Read and comprehend the warning shown above.
Proceed at your own risk.



---

STEP 2 OF 4

Remove the two screws on the left side of the shield (left as viewed from 5155 front).
The left side of the shield is now free to move.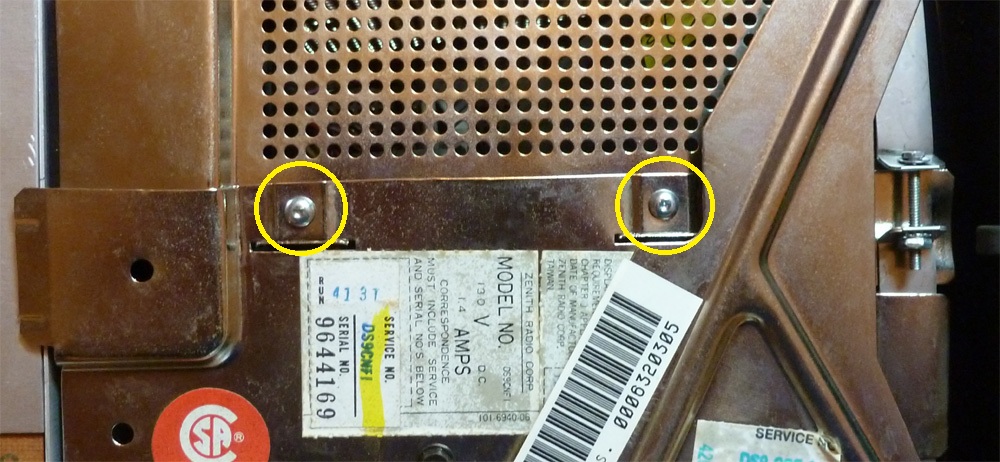 ---

STEP 3 OF 4

On the top of the shield is a tab that is tucked under a metal CRT securing belt.
By moving the shield's left and top sides, you will be able to free the tab, as pictured freed below.

The left and top sides of the shield are now free to move.




---

STEP 4 OF 4

The photo below shows where the shield is still attached - on the right side.

What needs to happen now is for the right side of the shield to be moved forward by about 5 mm.
There will be some initial resistance due to the bit in the photo that I've circled in orange.
Move the shield forward, then after about 5mm of movement, you will feel the right side of the shield hit a limit.
Then the right side of the shield becomes free to move upwards.

The whole shield can now be removed from the 5155.